Nat Fraser trial: Police 'wrong' to return Arlene rings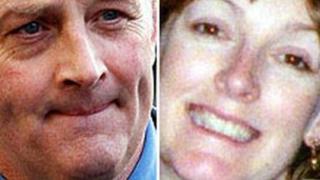 Police investigating the disappearance of Moray woman Arlene Fraser made a mistake by returning her rings to her husband, a former detective has said.
Nat Fraser, 53, denies murdering his 33-year-old wife, who vanished from New Elgin in 1998.
Alan Smith, once of Grampian Police, told the High Court in Edinburgh he was not happy about Mrs Fraser's personal items being returned to Mr Fraser.
About a month later, police asked him to give them back the rings.
Mrs Fraser's relatives were convinced her estranged husband had planted her rings in the bathroom of the family home.
Former detective superintendent Mr Smith said he disagreed with a decision to give back the rings, together with Mrs Fraser's passport and other personal items.
"It is well known I was not happy with that decision," he said.
Advocate depute Alex Prentice QC, prosecuting, suggested hindsight was a wonderful thing and asked Mr Smith: "Do you say today that decision to return the rings was wrong?"
'Missing person'
"Yes," agreed Mr Smith.
"The decision to return the property was not taken lightly," he said.
"The driver behind that was that we did not have a crime, we had a missing person."
Mr Smith said that although Grampian Police had their suspicions about Mr Fraser, he was not "a suspect".
When the rings were returned - at the request of Mr Fraser's solicitor - he had not been detained or arrested.
The trial later heard that Mr Fraser watched police searching his house and joked that they were wasting their time.
Gordon Methven, 51, was a member of a specialist police team - trained by army engineers to carry out anti-terrorist searches - who were called in after Arlene was reported missing.
He told the court how Mr Fraser had walked in as he was working in April 1998.
He said: "I cannot remember the exact words but it was along the lines of 'You are wasting your time.'
"He said it with a smile. I thought it was rather strange at the time. I think it was intended as a joke. It seemed inappropraite at the time."
The trial heard that Mr Methven later stated to police re-investigating the case in 2006 that Mr Fraser was saying the police should be out looking for Arlene instead of searching his house.
Mr Fraser claims that if his wife was murdered, the man responsible could be Hector Dick.
It is alleged Mr Fraser strangled his wife or murdered her "by other means to the prosecutor unknown".
The trial, now in its fifth week, continues.