Nat Fraser trial: 'Only one person had motive to murder Arlene'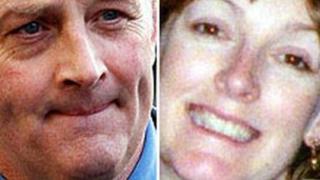 Only one person in the world had the motive to kill Arlene Fraser, a murder trial has heard.
Nat Fraser, 53, denies murdering his 33-year-old wife, who vanished from Elgin, Moray, in 1998.
Advocate depute Alex Prentice QC, prosecuting, said in his closing speech Mr Fraser had "instigated and organised" his wife's murder.
Mr Prentice said it had never been the Crown's position that Mr Fraser had himself killed his wife.
He described Mr Fraser as a controlling and possessive man who could not face the thought of his wife being apart from him.
Mr Prentice asked the jury to find Mr Fraser guilty of murder.
The prosecutor recalled how a friend of Mrs Fraser had told how Mr Fraser threatened: "If you are not going to live with me you are not going to be living with anyone."
Mr Prentice said those "chilling, prophetic words" summed up the case.
He said: "It is a case of a possessive, controlling man who could not bear to see his young wife be parted from him, who could not bear the thought of his wife with another man, who could not bear the thought of another man bringing up his children, could not bear to lose the money which was so important to him."
Mr Prentice continued: "These thoughts festered in his head and gnawed at him to such an extent that he organised the murder of his wife."
He said: "On the evidence there is only one person in the world who has a motive to kill Arlene Fraser."
Mr Prentice claimed there were 30 pieces of evidence which pointed to Mr Fraser's guilt.
The court has heard that the mysterious appearance of Arlene's rings in her bathroom - nine days after she disappeared - has previously been described as the cornerstone of the case against her husband.
'Perfect excuse'
Mr Prentice told the jury that police officers Julie Clark and Neil Lynch were "truthful" when they said they saw the rings there the night she was reported missing.
The rings had disappeared before specialist police searchers examined the Smith Street house the following day. Mr Fraser could have taken them, said Mr Prentice.
Mr Fraser had a reason to do so, access to the house and "a perfect excuse" if he had been caught there, the prosecutor added.
Mr Prentice invited the jury to "analyse, probe, test, challenge and test again the Crown case."
He continued: "Once you have done that you will find justice requires one outcome and I ask you, ladies and gentlemen, to find Nat Fraser guilty of the murder of Arlene Fraser."
On Monday it will be the turn of defence QC John Scott to make his closing speech on behalf of Mr Fraser. The jury is expected to be sent out to consider its verdict the following day.
It is alleged Mr Fraser strangled his wife or murdered her "by other means to the prosecutor unknown".
Mr Fraser claims that if his wife was murdered, the man responsible could be Hector Dick.
The trial at the High Court in Edinburgh is in its fifth week.