Shetland fishermen rescued after Whalsay grounding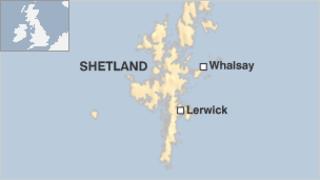 Two fishermen were rescued after their boat ran aground off Shetland on Thursday night.
Their vessel, the Valhalla, got into difficulties at West Linga, off Whalsay.
Shetland Coastguard said Lerwick lifeboat and the Sumburgh coastguard helicopter were deployed.
Whalsay Sailing Club's emergency craft was in the area and took the two men on board. Efforts were being made to pump water out of the boat.