Doctor faces hearing over beating of Iraqi detainees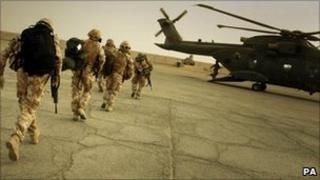 A Scottish army medic faces being struck off over allegations that he was involved in covering up the beating of Iraqi detainees.
One detainee, Baha Mousa, died in 2003 after what an inquiry described as an "appalling episode" of violence.
Dr Derek Keilloh was serving as a medical officer with the Queen's Lancashire Regiment in Basra in 2003.
A General Medical Council fitness to practise panel will begin considering the case next week.
Mr Mousa died with 93 injuries in British army custody in Basra.
He was arrested, along with nine other Iraqis, at the Haitham Hotel in Basra on 14 September 2003 by members of the 1st Battalion The Queen's Lancashire Regiment (1QLR).
In 2011, the chairman of the year-long inquiry into his death, Sir William Gage, blamed "corporate failure" at the Ministry of Defence for the use of banned interrogation methods in Iraq.
Sir William said a "large number" of soldiers assaulted Mr Mousa and the other detainees, and he added that many others - including several officers - must have known what was happening.
Dr Keilloh, from Aberdeen, faces a misconduct hearing over allegations that he failed to ensure written records were made of medical examinations of civilian detainees.
It is claimed that after trying unsuccessfully to resuscitate Mr Mousa, after he had stopped breathing on 15 September 2003, injuries were observed by Dr Keilloh and other medical staff.
He also faces allegations of failing to conduct an adequate examination of the body after death and failing to notify a superior officer of the circumstances of his death.
Two other cases of not recording injuries, and therefore failing to safeguard the physical condition of detainees, will also be considered.
The GMC fitness to practise panel will meet in Manchester on 11 June. The hearing is expected to last four weeks.