Plea made for kitten and cat food by Scottish SPCA at Drumoak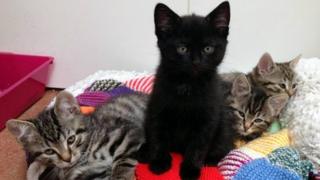 Caring for 23 kittens and 18 cats has led to an appeal for food by the Scottish SPCA's rescue centre in Aberdeenshire.
The centre at Drumoak is facing a constant demand for kitten and cat food due to the 41 felines.
Assistant manager Debbie Innes said: "We are going through our cat and kitten food at a tremendous rate and our stocks are extremely low.
"Any food donations from local animal lovers would be gratefully received."
'Almost bare'
She explained: "Buying cat food for the volume of animals we're currently caring for is proving to be really expensive and although local supporters are very good at donating food to us, demand is far exceeding supply.
"We have lots of cats nursing kittens right now, which means they remain in our care for at least six weeks until their babies are fully weaned and ready to be re-homed.
"With so many feline mouths to feed our store cupboard is almost bare."