Culpable homicide pair to appeal sentence over Gordon Morrice death in Aberdeen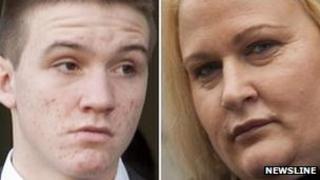 A schoolboy and a mother jailed for killing a man wrongly accused of being a paedophile are appealing against the length of their sentences.
Gordon Morrice, 58, died months after being severely injured at playing fields in Aberdeen's Golf Road in 2010.
The attack happened after he asked to bounce on a child's trampoline near his flat in the city.
Williamina Stewart, 37, was jailed for 10 years and Paul Noble, 18, for eight after they admitted culpable homicide.
They were sentenced in March at the High Court in Aberdeen.
The appeal hearing is due to take place on 6 July.