Willie Miller leaves board at Aberdeen Football Club as George Yule joins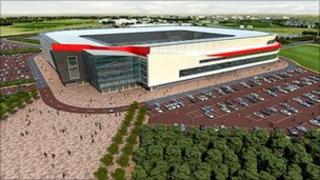 Aberdeen FC has announced boardroom changes - including club legend Willie Miller leaving the board - in preparation for the "greatest challenge" in the club's history.
Five directors - Mr Miller, Martin Gilbert, Hugh Little, Ken Matheson and Chris Gavin - are departing.
Businessman George Yule has been appointed to the new role of executive vice chairman.
Chairman Stewart Milne said Mr Yule was a welcome and necessary addition.
The club hopes to be able to move into a new stadium in time for the start of the 2014/15 season, giving it a further two years at Pittodrie.
Mr Yule is president of Aberdeen and Grampian Chamber of Commerce.
Mr Milne said: "I am extremely pleased that George, who has a wealth of contacts and experience in all sectors, has agreed to come on board at this absolutely crucial time in our history.
"I believe his enthusiasm, experience and judgement will add focus and momentum to the future direction of the club.
"We need a step-change in how the club is run if we are to deliver our vision of delivering the new stadium and soccer academy, and be in a position to take full advantage of these fantastic new facilities when we move."
'Obligation to supporters'
He added: "Clubs have always faced challenges which vary in nature and gravity, none more so than what lies ahead over the next few years.
"We have an obligation to our supporters, shareholders and all those associated with the club to ensure we are fit for the future, and have the best resources available to us.
"We believe George's appointment as executive vice chairman does exactly that."
The club said Mr Miller, Mr Matheson and Mr Gavin were leaving with immediate effect, while Mr Gilbert and Mr Little would depart following transfer of Aberdeen Asset Management's shares in the club to others.
Mr Milne said: "Aberdeen Asset Management has been a tremendous supporter of the club for a great number of years but, with the organisation's focus on its core asset management business, we feel that the involvement in AFC has reached a natural conclusion."
Aberdeen had initially hoped to move into the new 21,000-seat stadium, at Loirston Loch on the southern outskirts of the city, for the start of the 2013/14 season.
However, that was postponed by a year due to delays over land ownership. Negotiations are continuing.