Delays as lorry sheds plastic load at Aberdeen's North Esplanade West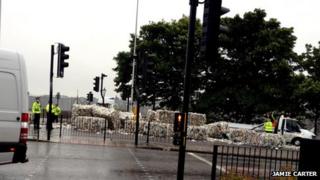 Motorists are being warned of delays after a lorry shed its load of plastic recycling near Aberdeen city centre.
The incident happened at North Esplanade West at the Victoria Bridge on Thursday afternoon.
Grampian Police urged drivers to avoid the area if possible.
Do you have pictures - still or moving - of the scene of this incident? Send them to the BBC Scotland news website at newsonlinescotland@bbc.co.uk
Please ensure when filming or photographing an incident that you make your safety and the safety of others a priority.
If you submit an image, you do so in accordance with theBBC's Terms and Conditions