Shell announces Gannet Alpha oil leak recovery plan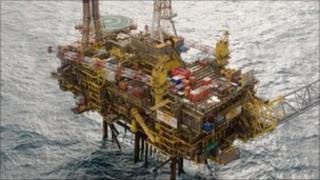 A detailed plan for recovering oil trapped in a North Sea pipeline at the centre of a major spill last year has been announced by Shell.
The incident at the Gannet Alpha oil platform, 113 miles (180km) off Aberdeen, happened in August last year, with 200 tonnes of oil leaking.
The leak was stopped but the pipeline still contained oil.
BBC Scotland has learned Shell plans to begin pumping the oil into a tanker on the surface in August.
The company said the secretary of state's representative for maritime salvage has agreed to preparatory work for the oil recovery plan.
It will involve placing taps into the pipe and pumping the oil through them onto the vessel.
The operation should take about two weeks and will happen during a window of good weather.
The pipeline will then be flushed clean and left on the seabed.
An investigation into the cause of the incident is still ongoing.
The leak was discovered about 300ft (91m) below the surface.