Faroe and Iceland mackerel sanctions welcomed by Scottish fishing leaders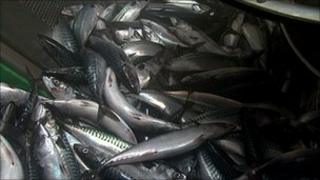 Scottish fishing leaders have welcomed European sanctions being agreed against the Faroe Islands and Iceland amid concerns over mackerel catches.
Scottish fishermen have been voicing concern since the two nations announced a sizeable quota increase.
Mackerel is the most valuable stock for the Scottish fleet.
A package of measures has now been agreed including restrictions of mackerel landings in EU ports.
Ian Gatt, chief executive of the Scottish Pelagic Fishermen's Association, said: "We have been calling for these sanction measures for a long time and we are delighted at this sanctions package."