Tullos Hill cull: 35 roe deer killed in Aberdeen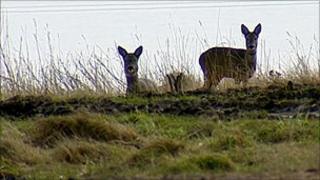 A total of 35 roe deer have been killed as part of a controversial cull in Aberdeen, the city council has said.
The animals have been killed at Tullos Hill in order to protect about 80,000 new trees being planted.
The local authority said there is a statutory requirement to manage deer on all of its land, and the roe deer population was assessed as being much higher than the land could support.
The operation is ongoing. The cull sparked animal welfare protests.