Aberdeen's city gardens 8,000 jobs claim questioned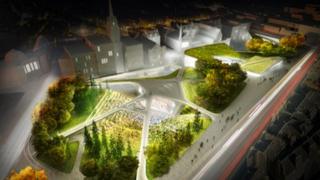 A new report into the business case for Aberdeen's City Gardens' project has thrown doubt on the number of jobs it will create.
The council's Labour Group, who are opposed to the redevelopment of Union Terrace Gardens, commissioned economist Tony MacKay to evaluate the figures.
He has questioned the claim in the council's own report that 8,000 jobs would be created by the project.
The future of the scheme will be decided by councillors on 22 August.
The council report claimed the project had "the potential to unlock significant private sector investment and generate up to 8,121 jobs and an average of £142m per annum of economic growth over 25 years".
Mr MacKay questions the methodology used to calculate those figures.
The council's Labour-led administration wants to scrap the scheme.
Businessman Sir Ian Wood has pledged £50m of his own money to the project, which he believes the city must grasp.
Split opinion
In a referendum earlier this year, residents were asked if they wanted to retain the gardens or back the City Garden Project redevelopment.
More than 86,000 votes were cast online, by post and by phone.
There were 45,301 votes in favour of the project, with 41,175 people opposed to the plans.
Last month Aberdeen singer Annie Lennox described the plan to transform the gardens as a "dog's dinner".
If it goes ahead, the project could be finished by 2017.