Donald Trump flies in to launch Aberdeenshire golf course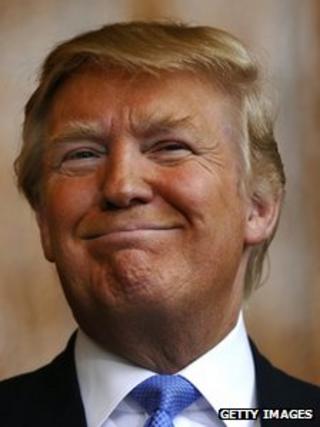 Donald Trump has arrived in Scotland to prepare for the launch of his golf course in Aberdeenshire.
He flew into Aberdeen on his private jet, accompanied by family and friends.
The Trump International Golf Links has not been without controversy, with opponents accusing the tycoon of wrecking the local environment.
The US billionaire has attacked proposals for an offshore wind farm which he fears will blight the view for golfers.
Mr Trump is to christen his new course on Tuesday by hitting the first balls with former Ryder Cup captain Colin Montgomerie.
And veteran James Bond actor Sean Connery has been given the honour of becoming the club's first member.
The course was built on the Menie Estate, which includes sand dunes classed as a site of special scientific interest.
Opening event
The Scottish Wildlife Trust, which opposed the development, is calling on top golfers to boycott some of the holes.
The charity has written to professional players taking part in the opening event, asking them to avoid the most environmentally-sensitive areas.
Mr Trump's plans for a hotel and hundreds of homes on the site have been put on hold.
The businessman told MSPs in April that when he heard of plans for 11 offshore wind turbines 2km (1.2 miles) from his golf resort, he considered moving the development to Ireland.
Scottish ministers have yet to make a decision on whether to approve the £150m wind farm project.