RAF Kinloss closure date confirmed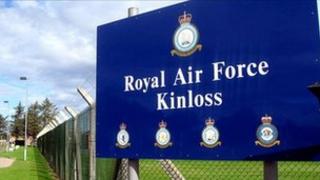 RAF Kinloss will officially close as an air force base later this month, it has been confirmed.
The 39 Engineer Regiment will take over the Moray airbase on 26 July, marking the end of a 73-year RAF presence.
There will be a small private ceremony to formally hand over the base, which will be renamed Kinloss Barracks.
Some 716 personnel from the engineer regiment, currently based at Waterbeach near Cambridge, will complete their move to Kinloss by October.
Group Captain JJ Johnston, the station commander at RAF Kinloss, said it was the start of a new military era in the area.
"The RAF at Kinloss has played a significant role in Moray throughout the last 73 years, and I know that 39 Engineer Regiment will forge the same warm links with the local community," he said.
Lt Col Andy Sturrock, the Commanding Officer of 39 Engineer Regiment, added: "It is clear that Kinloss has much to offer the regiment, not least the opportunity to build a similar relationship with the community in Moray to that which we have had in Cambridgeshire.
"We have been overwhelmed by the warm welcome and offers of support that we have already received.
"We know that the facilities and accommodation at Kinloss are first class and that Moray is a beautiful part of the country that offers much for our soldiers and our families."