Piri piri burr found near Forvie reserve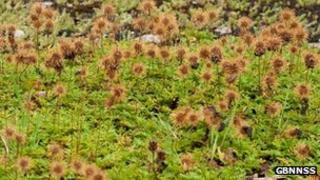 A highly invasive plant, originally from New Zealand, has been found on sand dunes near an internationally important nature reserve.
Several patches of piri piri burr are growing a few hundred metres from the Forvie reserve in north east Scotland.
The plant forms a compact ball of seeds, each with its own hook ready to attach to the socks, fur or wool of passing people or animals.
The seed later drops out, allowing the plant to spread.
Like many non-native plants, it was first grown in gardens from which it escaped, either by seed spread or by people dumping garden waste in the countryside.
The plant was found by Scottish Natural Heritage (SNH) operations officer Mike Smedley.
He said: "We don't know of any large areas of piri piri burr in north east Scotland, but the island of Lindisfarne off the coast of Northumberland shows how bad the effects can be of unchecked spread.
"The plant grows over the ground, creating a dense carpet which can eliminate other less robust species."
Annabel Drysdale, SNH's reserve manager at Forvie, added: "Invasive, non-native species are a worry on any nature reserve.
"Because of the risk, we agreed with our neighbour that prompt action was necessary, so we are pulling up the plants before they seed and using herbicide on larger patches.
"It is very timely that the Scottish government published its code of practice for invasive non-native species just last week, which explains the part we can all play in avoiding harm to our environment."
The control of non-native species such as Japanese Knotweed and Signal Crayfish is estimated to cost Scotland £244m every year.
Scotland is the first country in the UK to aim to protect its native species through the publication of a code of practice.