Illegal off-roading targeted in north east forests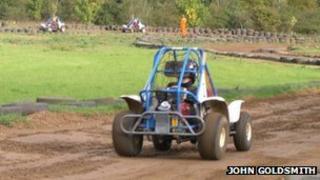 Drivers caught illegally off-roading in woodlands in the north east of Scotland are being warned they could have their vehicles seized.
The move is part of a joint campaign by Grampian Police and the Forestry Commission to keep forests safe.
The commission said off-roaders should keep to organised clubs and not use forests without proper permission.
Grampian Police warned that offenders face criminal records or having their vehicles seized.
The campaign will see posters distributed at key sites throughout the Grampian region, making off-road drivers aware of their responsibilities.
Calum Murray, communities, recreation, and tourism manager for the Forestry Commission, said: "The illegal use of motorbikes, quads, and 4x4s in the forest poses a real danger to visitors in our forests.
"You can imagine what might happen when a fast moving bike or quad meets a horse rider and frightens the horse.
"We don't want that kind of incident in the forest."
Driver risk
The commission said that it was not just visitors' safety that had prompted their concern.
Mr Murray said: "The drivers of these vehicles are not only putting other forest users in danger, they are also putting themselves at risk.
"They could take a bend at speed and find a timber lorry or a harvester coming the other way."
Grampian Police, involved in the enforcement part of the campaign, said officers received reports of off-road driving in the forests most weekends.
Ch Insp Ian Wallace, head of roads policing, said: "Unfortunately, our officers are increasingly encountering people who don't realise that many of the laws and regulations which apply to normal roads also apply to them."
Law breaking
He warned those continuing to break the law, that if caught there would be consequences.
The officer added: "Drivers engaged in this type of unauthorised off-road driving could be committing a number of offences.
"They need to be aware of that and the fact that they face a potential fine or, in the worst cases, having their vehicle seized by police."
The public are also being urged to report any driver they believe is illegally off-roading.