Sharon Hollinsworth admits Andrew Oates murder charge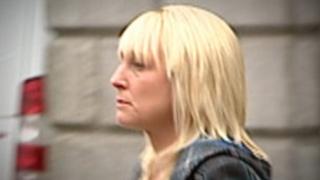 A woman has admitted murdering her partner in the Aberdeenshire town of Peterhead.
Sharon Hollinsworth, 44, attacked Andrew Oates in October 2010. She admitted murder at the High Court in Aberdeen.
Her children Christopher Hollinsworth, 19, and Natalie Hollinsworth, 22, admitted conspiracy to murder.
All three were denied bail due to the gravity of the offences. They will be sentenced at the end of next month.
The court heard the three had appeared at Grampian Police headquarters in Aberdeen and Sharon Hollinsworth said she had killed her partner.
Officers went to their address and found his body wrapped up in a bedroom.
Blood splatters and cleaning materials were also found at the scene.
Mr Oates, 44, had died of blunt force head injuries consistent with the use of a hammer.
Sharon Hollinsworth later described the victim as a "violent bully".
Advocate depute Kath Harper said the Crown accepted that Sharon Hollinsworth had been assaulted by Mr Oates during their relationship.
The court heard of text messages exchanged between the three accused in the run-up to the attack describing a plan.
One from Sharon Hollinsworth read: "It's a place we were dragged to. All I want to do is protect you both. I hate him with a passion."
Ms Harper said: "The thrust of the communications demonstrates there was a discussion about their fear, and a plan to get rid of him with a hammer.
"Sharon Hollinsworth said it was her intention to bury the body in the back garden. She started to dig but could not go through with it."
She also admitted attempting to defeat the ends of justice, as did Natalie Hollinsworth.
Not guilty pleas to the murder charged from Sharon Hollinsworth's two children were accepted by the Crown.
Sentence was deferred until 28 August at the High Court in Edinburgh.
Outside court, one relative of Mr Oates said of the case: "It's been a long, difficult haul."
'Devastating impact'
Grampian Police Det Ch Insp Martin Dunn, who led the enquiry, said: "This was a calculated and premeditated murder which has had a devastating impact on so many lives and has torn a family apart.
"They will now have to live with the consequences of what they have been done for the rest of their lives."
"Today's outcome will not bring Andrew back but it does spare his family the ordeal of having to sit through a trial.
"I hope it will also allow them a degree of closure and the opportunity to move on with their lives after all they have been through."