Disney-Pixar's Brave event Drums up 250 red-heads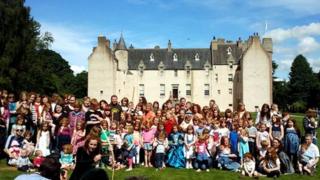 More than 250 people with red hair turned out for a flashmob at an Aberdeenshire castle to mark the release of Disney-Pixar's Brave.
The National Trust for Scotland offered free entry for those with red hair taking part in the event at Drum Castle on Friday.
Merida, the heroine of Brave, has red locks.
Voices featured include Scottish stars Billy Connolly, Kelly Macdonald and Robbie Coltrane.
Did you attend the red hair flashmob? Send your photos to the BBC Scotland news website at newsonlinescotland@bbc.co.uk
Please ensure when filming or photographing an incident that you make your safety and the safety of others a priority.
If you submit an image, you do so in accordance with the BBC's Terms and Conditions.