Rescue operation after boys get stuck on Aberdeenshire rocks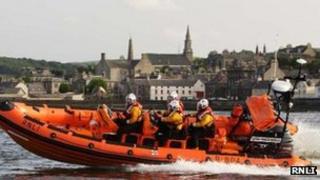 Three boys have been rescued after getting stuck on rocks in Aberdeenshire when the tide came in.
The youngsters, aged 11, 13 and 14, were exploring on the coast near Gardenstown on Sunday afternoon when they got cut off beneath steep cliffs.
Two were taken to safety by Macduff lifeboat. The other boy was airlifted by a helicopter from RAF Lossiemouth.
No-one was injured after the incident on Sunday afternoon.