Six rescued as Banff boat Audacious sinks in North Sea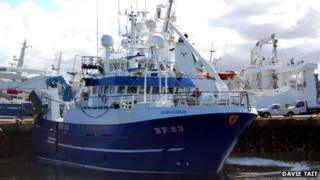 Six fishermen have been rescued after their boat sank in the North Sea off Aberdeen.
The crew on board the Banff-registered Audacious made it into a life-raft, 47 miles off the coast, before being picked up.
Aberdeen Coastguard co-ordinated the rescue after the alarm was raised at about 15:30 on Friday.
Water had been reported above the boat's engines. Two rescue helicopters were dispatched to the scene.
One was from RAF Lossiemouth and the other from a Danish naval ship which was in Aberdeen Harbour on a goodwill visit to the city.
There were no reports of injuries and no-one had to be transferred to hospital.
The coastguard spokesman said it was not yet known what had caused the fishing boat to sink.