Sir Ian Wood 'will not support' a City Gardens compromise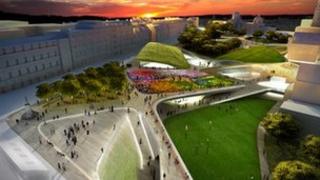 Businessman Sir Ian Wood has written to Aberdeen City Council's leader saying he would not support a compromise design for Union Terrace Gardens.
A vote will take place at the council next week which will determine the future of the City Gardens Project.
Sir Ian had pledged £50m of his own money towards the scheme.
In the letter, he said a compromise plan including the winning Granite Web design and the present gardens was "not feasible".
Sir Ian also said if the vote goes against the project he will have no choice but to withdraw his financial offer.
Last week business leaders from Aberdeen sent a letter to councillors expressing their backing for the City Garden Project.
A full meeting of the council on 22 August will discuss the proposals to transform Union Terrace Gardens.
The administration's senior coalition partners, Labour, have said they want to scrap the scheme.
In a referendum earlier this year, people were asked if they wanted to retain the gardens or back the City Garden Project redevelopment.
More than 86,000 votes were cast online, by post and by phone during the referendum. There were 45,301 votes in favour of the project, with 41,175 people opposed to the plans.
Tax Incremental Financing would see the £92m loan being paid back by increased income from business rates.
If it goes ahead, the project could be finished by 2017.