Mareel contractor DITT takes legal action against Shetland Arts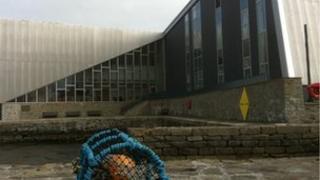 The contractor which built Lerwick's new arts centre, Mareel, has begun legal action against Shetland Arts.
DITT is seeking more than £200,000 in a row about how to interpret clauses in its contract.
Shetland Arts told BBC Radio Shetland that it would not be defending itself against the legal action and had accepted that it would have to hand over the cash.
The agency is seeking money to meet the bill from various funding bodies.
The contract issue has already been considered by an independent adjudicator as part of a disputes resolution procedure agreed between the two sides.
DITT said it was waiting to have the most recent developments confirmed by its lawyers.
It is still possible that there could be an entirely separate court case over allegations that changes to the design of the building led to delays and extra costs.
The sums in dispute if those issues ever come to court could be up to £1m.
Mareel should have opened in the spring of 2011.
However, the run-up to the opening at the end of August was marred by confusion over a number of events scheduled to take place in the building which had to be transferred to other venues at the last minute.
The building is home to Shetland's literature and screen festivals, Wordplay and Screenplay, with a formal opening ceremony planned for later in the autumn.
The name of the venue comes from a Shetland word meaning a shining phospherescence which appears on the sea, something which is reflected in the silver cladding which covers the building.