Shetland Whooper swans fledge cygnet success on Loch of Spiggie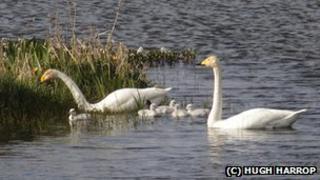 Two Whooper swans on the Loch of Spiggie in the south of Shetland have successfully hatched four cygnets.
The RSPB, which runs the reserve, said it was the first time that had happened in almost a hundred years.
The last time a breeding pair of the birds raised offspring on the loch is believed to have been at the end of World War I.
The news has been hailed as "fantastic" by conservationists. Whooper swans are named for their distinctive deep call.
Hugh Harrop, of Shetland Wildlife, told the BBC he must have been one of the first people to see the adult birds with their chicks.
"I thought I'd pop along to the loch for a look, and see how the swans are doing. I could not see the bird on the nest," he said.
"I looked around the back of the peninsula the female bird had been sitting on.
"I waited, and then out popped mum and dad and five tiny, tiny cygnets. They were probably under 24 hours, maybe even 12 hours, old."
Subsequently one of the baby birds has disappeared.
"We don't really know what happened to the fifth bird unfortunately", Mr Harrop explained.
"It either got predated by a great black-backed gull, or a bonxie (great skua), or potentially even a land animal. But the other four have survived."
Helen Moncrieff, RSPB warden for southern Shetland, said the organisation tried to keep human disturbance to a minimum.
"We've done our best to ensure the swans were not disturbed by people visiting the loch", she said, adding "and this seems to have paid off."
It is thought the family group will stay on the loch, perhaps until early spring next year, before the parents encourage the cygnets to fend for themselves.
A breeding pair of Whooper swans is known to have lived on the loch at the beginning of the 20th Century, but they were shot dead in the winter of 1920.
Ms Moncrieff said: "This is the first time (since then) we've seen a pair successfully produce babies at Loch of Spiggie.
"To think it's taken almost a century makes it all the more remarkable."