Researchers to gauge the costs of living in remote areas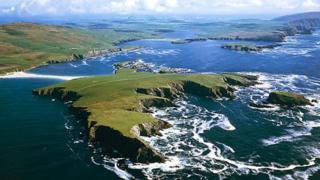 Talking to people on the streets of Lerwick, the capital of Shetland, there's pretty much unanimous agreement. Living in the islands costs more than living down south - on the Scottish mainland.
The list is almost predictable.
"The cost of petrol is extortionate", one woman tells me, "since we've got the oil terminal on our doorstep (at Sullom Voe)."
One man tells me that "buying fresh goods is much, much cheaper down in the mainland."
That thought is echoed by a woman who complains that almost all fruit and veg has to be shipped over, so it's "very difficult to get quality stuff, and get it into the rural parts".
And there's a sense, too, that households here have to spend money in different ways from families in Scotland's cities, or bigger towns.
Having two cars isn't a luxury. And transport costs figure largely in household budgets.
"For somebody living, for example, in Whalsay or Northmavine (in the north of Shetland)" one man explains, "it's quite a lot of their weekly wage to get to Lerwick if you're commuting. It's completely different from living in Aberdeen, or even Inverness."
And that's exactly the point of the new research, which has been commissioned by Highlands and Islands Enterprise (HIE).
How different are spending patterns? And what are the extra costs? Exactly how much money do you have to have, in fact, to live a decent standard of living in Scotland's remotest rural communities?
Alastair Nicolson, Head of Planning and Partnerships at HIE, told me the aim of the research is to move "from anecdotes to evidence".
He added: "Once you can see what things are more expensive, and how much more expensive they are than the average, that's when you're in a position to develop - or tweak - policies to address some of those challenges.
"And when you've got an evidence base you can inform policies such as housing policy, transport policy, economic development policy, to make sure that they properly meet the needs of the people in the different types of communities that we serve across Scotland. And across the Highlands and islands in particular."
Part of the research will be led by Donald Hirsch, from the Centre for Research in Social Policy at Loughborough University.
He told BBC Radio Shetland: "Government and others are taking decisions about benefit levels, or about supporting people and supporting communities."
"(But) up until recently they really didn't have any idea what sort of income people would need as a minimum. It was very arbitrary, how you could set things like wages, or benefit levels."
'Make life acceptable'
He says that's what's prompted the investigation. To find out "what a minimum would be, in remote parts of rural Scotland".
The Centre, known as Crisp, has already conducted similar studies in urban and rural England. But the costs and needs of people in the Highlands and islands may well be very different.
"Let's be clear here", Donald Hirsch insists, "we're not just talking about the basics of life like food, and clothing and shelter. Those, of course, are absolutely essential for everyone."
"But we're also talking about the other things that make life acceptable. A certain amount of social participation, in order to not just survive but actually to live properly."
"And people won't have the same expectations if you live in London, or Lerwick, or a very remote island in Shetland."
'Very intense'
The details of exactly who will be asked to take part in the research and how it will be conducted are yet to be finalised. But researchers will have what they call "very intense" conversations with people to establish what are acceptable minimum standards for people at different stages of life in their communities.
In a way what the research is trying to weigh up is best summarised by two comments people made to me, back out on Commercial Street in Lerwick.
One man said: "The cost of living on the islands here is much, much higher. But if you want to live in the islands, you have to pay that cost."
But another pointed out: "To buy the same things, you definitely need more money (than in mainland Scotland). But we have a very good standard of living here. There's more to the standard of living than the things you can buy with money."
The research findings are due to be published next year.