Crofters warned to sort out succession or lose their croft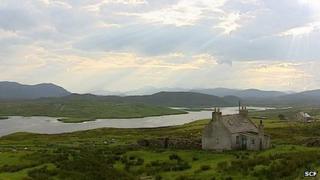 Crofters across the Highlands and islands are being warned they could lose their crofts, if they don't resolve inheritance issues in plenty of time.
The Scottish Crofting Federation highlights a recent case in which a council threatened to include a croft in an elderly woman's financial assets, even though she'd assigned it to her son a year before going into care.
If she'd been liable to pay fees for residential accommodation it could have meant the family giving up the croft.
Donald Murdie from the Federation told BBC Radio Shetland: "In this particular case (the croft) had been worked for 20 years by the younger family member. To all intents and purposes, he was the crofter.
"But he found, much to his shock, that his crofting status was not secure at all."
Caught in a trap
Now the SCF is warning that case may not have been a one-off.
"We know of quite a number of cases where people could be caught in this trap," Donald Murdie says.
"A local authority can actually go back some years and look at a person's property.
"If they allege that the property has been disposed of in order to avoid liability for care home charges, then they will still regard it as the person's property even though it isn't."
Agnes Leask's family has farmed crofts near Weisdale, on Shetland's west side, for generations. Now she's having to accept that she needs to hand the property over to her children, before her death.
She says: "It's something that everybody should think about. And usually the things that are hardest to think about are the most important things in life.
"And one of the most important things in life, especially if your family is interested in carrying on the croft when you're gone, is to make sure that it is theirs to carry on."
But Drew Ratter, now a Shetland Islands councillor and a past chairman of the Crofting Commission, warns against panicking.
"It's a reasonable thing for councils to try to find value where they can in these straightened times," he says.
"But I think they're going to have great difficulty finding value in (crofting) assignations of this kind. Because in law assignations don't have a value.
"A crofting tenancy is wrapped around in miles and miles and miles of legislation. And the legislation says a crofter is entitled to compensation for tenants' improvements. And that's all you're entitled to."
Nevertheless, the Scottish Crofting Federation is advising crofting tenants to contact the Crofting Commission and set in motion the process of family assignation.
And it says owner occupiers should contact a lawyer and get the title transferred to the family member that is actually working the croft.
Lawyers or feuds
Donald Murdie says: "The sooner that you can do this, the better. We know that there will be cases where it's not straightforward. Where one or more members of a family might have interests in a croft."
"But they really need to get their heads together and sort this. And do it now."
Back in the kitchen of her croft at Weisdale, Agnes Leask accepts that this issue is complex. And emotive.
But, she says, it's one that has to be tackled.
"It's very important to get it sorted. Because if you don't do it while you're alive, it could end up in the hands of lawyers when you're gone.
"It could end up in family feuds.
"But if you make the decision, the family may not be happy with it. But they can do nothing about it, because you're gone then."
She smiles. And offers me a chocolate biscuit.