Aberdeen woman finds snake in cutlery drawer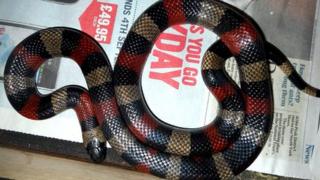 An Aberdeen woman was "terrified" when she opened her cutlery drawer and found a snake inside.
The woman had been making herself a cup of tea when she made the unexpected discovery in the city's Coningham Terrace.
She called police and the red, black and brown striped milk snake - which has been named Spooner - is now being cared for by the Scottish SPCA.
Animal rescue officer Lynne Craib said: "The poor woman got a real fright."
'Escape artists'
She explained: "Spooner is in good condition so we think he has been someone's pet until recently.
"Snakes need heat to survive and it was quite warm in the lady's kitchen so that may be why Spooner went inside the drawer.
"We've rescued snakes from all sorts of unusual places over the last few months, including behind a washing machine and around a lamppost, but this is the first one found in a cutlery drawer.
"Snakes are really good escape artists so there's every chance Spooner has an owner nearby who is missing him."