Sharon Hollinsworth jailed for life for Andrew Oates murder in Peterhead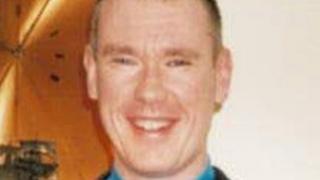 A woman who admitted murdering her partner in Aberdeenshire has been jailed for life.
Sharon Hollinsworth, 44, attacked Andrew Oates at their home in Peterhead in October 2010.
Her children Christopher Hollinsworth, 19, and Natalie Hollinsworth, 22, admitted conspiracy to murder.
Christopher Hollinsworth was sentenced to four years and two months, Natalie Hollinsworth was jailed for five years, at the High Court in Edinburgh.
Judge Lord Doherty told Sharon Hollinsworth he accepted Mr Oates was "a difficult man to live with."
He said: "I accept he was a controlling personality and you suffered abuse from him during your relationship."
But the judge told all three accused that could not justify or excuse what they did.
The three had appeared at the Grampian Police headquarters in Aberdeen and Hollinsworth said she had killed her partner.
Officers went to their home and found his wrapped body in a bedroom.
Blood splatters and cleaning materials were also found at the scene.
Mr Oates, 44, had died of blunt force head injuries consistent with the use of a hammer.
Hollinsworth later described the victim as a "violent bully".
Not guilty pleas to the murder charged from her two children were accepted by the Crown.
Grampian Police Det Ch Insp Martin Dunn, who led the inquiry, said: "This was a calculated and premeditated murder which has had a devastating impact on so many lives and has torn a family apart."
Sharon Hollinsworth was told she must serve at least 11 years in prison before she can apply for parole.