Football ban order for Celtic Twitter comment overturned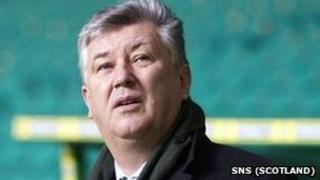 An Aberdeen man who posted a threatening Twitter comment after Celtic's chief executive said the club did not need Rangers has won a legal challenge to overturn a three-year football banning order.
Ryan MacDonald, 21, wrote "Lawwell needs a bullet simples!!!" about Peter Lawwell in February.
He received community service, and the banning order.
Judges at the Justiciary Appeal Court in Edinburgh quashed the banning order.
He had admitted breach of the peace by sending the message, at Glasgow Sheriff Court, and received 70 hours of community service in May.
The first offender deleted the message 24 hours after it was posted.