Aberdeen Royal Infirmary patient has 3D prostate surgery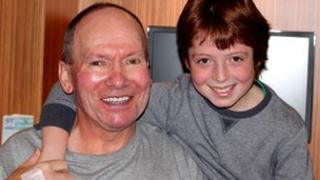 A prostate cancer patient at Aberdeen Royal Infirmary has been operated on by 3D keyhole surgery in what is believed to be a Scottish first.
Bob Pert, 69, had been diagnosed with prostate cancer in July.
Justine Royle, a consultant urological surgeon, used a stand-alone 3D unit, which includes special goggles as well as two cameras which allow highly detailed images of the patient to be projected on to a flatscreen.
Mr Pert said they did a "great job".
Ms Royle said: "In keyhole surgery we normally use a standard 2D camera, but this unit has two cameras which go inside the patient and are connected to a large screen which allows us to view things in detailed 3D with the help of special goggles.
"A prostate removal operation generally takes about three hours, however I was able to complete Mr Pert's operation in two hours, so it was much faster and he lost very little blood.
"The quality of the image was excellent and it allowed us to see things even better, as well as being less physically demanding for me and more comfortable.
"The operation went very well and it is great to see Mr Pert up and about and looking well so soon after surgery."
Mr Pert said: "I felt no pain at all and the nurses were surprised when I refused painkillers because I didn't feel I needed them."
Urological cancer charity UCAN is currently raising £2.5m for Scotland's first robotic surgical equipment, which incorporates the 3D equipment.