Talisman Energy sends boat to collect overdue oil workers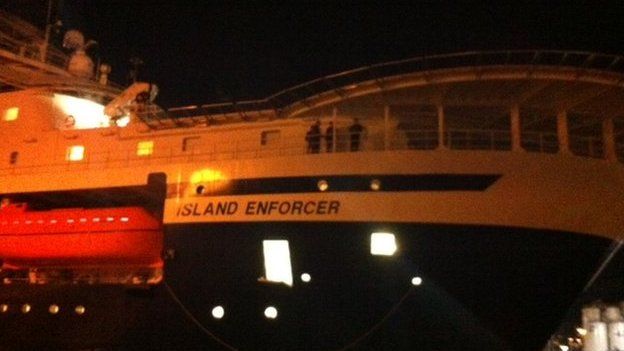 North Sea oil workers forced to remain on offshore platforms after last week's helicopter ditching are being picked up by boat.
Hundreds of staff are overdue to return since almost a quarter of the industry's fleet was grounded after the Super Puma ditching off Shetland.
Talisman Energy UK has sent a vessel to collect 87 workers and deliver relief staff to replace them.
The Island Enforcer left Aberdeen harbour on Sunday evening.
A CHC-operated Super Puma EC 225 ditched during a flight to the West Phoenix rig, west of Shetland, last Monday.
All 19 men on board were rescued.
Air accident investigators found the helicopter had suffered a cracked shaft in the gearbox.
The Civil Aviation Authority (CAA) banned similar types of the aircraft from flying over water - but other versions were allowed to resume flights on Friday.
Talisman said it hired a 120-person vessel to mobilise personnel offshore "to supplement the limited helicopter flights available at present".
Geoff Holmes, senior vice president, Talisman Energy UK, said: "Talisman established a team of senior personnel to proactively address the issues arising from the helicopter incident on Monday.
"The team has worked tirelessly to source all alternatives to reduce the backlog of flights in a timely and, above all, safe manner. I am delighted that we have secured the Island Enforcer to assist.
"This has been a very challenging time for our teams offshore and our personnel waiting to mobilise and I would like to take this opportunity to thank them all for their patience and their support."
Related Internet Links
The BBC is not responsible for the content of external sites.