Lee Cyrus: Grampian Police rule out 'sighting' in Boddam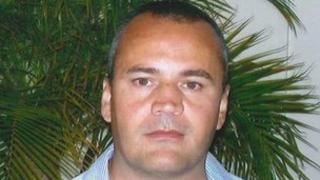 A possible sighting of a "dangerous and predatory" criminal missing from an open prison has been ruled out by Grampian Police.
The report about Lee Cyrus, 47, who is also known as Ivan Leach, originated in the Boddam area of Aberdeenshire on Tuesday evening.
However Grampian Police said the man had now been positively identified and was not Cyrus.
Police said he had previously been in the Tayside area.
He is suspected of carrying out a serious sex attack there.
Cyrus, from Preston, had been serving a life sentence for robbery.
However, he failed to return to North Sea Camp open prison near Boston Lincolnshire, from day release on 9 October.
Tayside Police Ass Ch Con Angela Wilson said: ''We had more than 100 possible sightings of Lee Cyrus in the Tayside area after we alerted the public to the fact he had been in our area.
''We know that he is travelling throughout the UK and as such all police forces are working together with a view to tracing him and returning him to custody as a matter of urgency.
''He is a dangerous individual and the public should rightly be concerned that he is at large, we would ask them to be alert, aware, vigilant and security conscious. If you seem him contact the police immediately."
Ass Ch Con Angela Wilson added: ''At the same time I would appeal directly to Cyrus, wherever he is, to hand himself in.
"Police forces across the UK are alert to the fact that has absconded and given the publicity of the past week, his face is well known within communities across Scotland and England.
"He should do the right thing and give himself up.''