North Cormorant platform workers evacuated after gas leak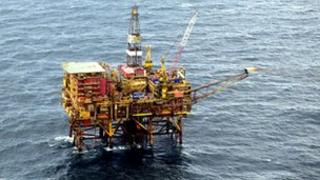 An investigation is under way after more than 90 workers were evacuated from a North Sea oil platform following a gas leak.
They were taken to nearby installations after the alarm was raised on the North Cormorant platform at about 05:00 on Sunday.
Operators Taqa Bratani said the platform was shut down as a precaution. The neighbouring feeder Tern and Eider installations were also shut down.
No-one was injured in the incident.
Taqa said late on Monday afternoon that production on North Cormorant, Tern and Eider was in the process of being restarted.
Re-manning of North Cormorant was happening "as soon as logistically possible" with all personnel expected back on board by end of the week.
Taqa originally said 92 non-essential crew had been transferred, from a total of 202 personnel.
The North Cormorant platform is 109 miles off Lerwick in Shetland.