Aberdeen 'tooth removal' teaching assistant removed from register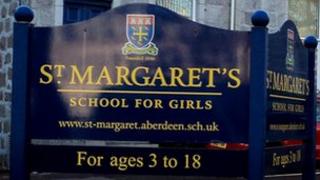 A teaching assistant has been removed from the register over allegations she pulled a pupil's tooth out at a private school.
Christina Newcombe faced a hearing of the General Teaching Council for Scotland (GTCS) over the incident at St Margaret's School for Girls in Aberdeen.
It was claimed she extracted a tooth by twisting it out using a napkin.
She was also said to have called two pupils "nincompoop" and "numpty".
GTCS said Ms Newcombe had been removed from the register of teachers with consent.
The move is subject to a 28 day appeal period to the Court of Session.
The tooth incident was said to have happened in March with the pupil's consent but in breach of the school's child protection policy.
In June, during a school trip to Montrose Basin Nature Reserve, Ms Newcombe is said to have called pupils names, and to have grabbed a pupil by pulling her clothing, causing the girl fear and alarm.
Ms Newcombe no longer works at the school.
Dr Julie Land, headteacher of St Margaret's School for Girls, said: "The school took this incident very seriously and dealt with it robustly in a swift and decisive manner.
"We will not tolerate any activity which may cause harm or fear to any individual and we actively promote respect between and among staff and pupils."
According to the school website, St Margaret's was founded in 1846 and is the "oldest all-through girls' school in Scotland".
St Margaret's has about 400 pupils, aged from three to 18.