Multiple sclerosis: World's highest rate in Orkney Islands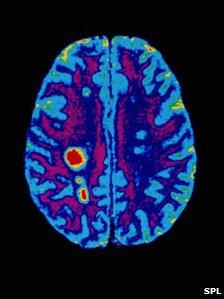 Scotland's Orkney Islands have the highest rate of multiple sclerosis (MS) in the world, according to a major new study.
Researchers said that the rate for probable or definite MS was now 402 per 100,000 people, up from a previous 309 per 100,000 which was recorded in 1974.
Teams at the universities of Edinburgh and Aberdeen carried out the study.
They are now trying to work out why the figure in Orkney is so high, but believe genes could play a key role.
With MS, the protective layer around nerves, known as the myelin sheath, becomes damaged.
Messages from the brain to the rest of the body are disrupted, resulting in difficulty moving, muscle weakness and blurred vision.
There are many suspected risk factors, and the disease is known to be more common away from the equator.
MS affects about 100,000 people in the UK.
The new study found that one in 170 Orcadian women suffer from the condition.
The current figure for Orkney compares to 295 per 100,000 in Shetland and 229 per 100,000 in Aberdeen.
Dr Jim Wilson, of the University of Edinburgh's Centre for Population Health Sciences, said: "Our study shows that Orkney has the highest prevalence rate of MS recorded worldwide.
"These findings may reflect improved diagnostic methods, improved survival or rising incidence.
"We are trying to work out why it is so high, but it is at least partly to do with genes."
It has previously been noted that areas of high MS prevalence around the world have been settled in by Scottish immigrants.
Previous studies have shown high rates of MS in Canada and Scandinavia.
The new study is published in the Journal of Neurology, Neurosurgery and Psychiatry.
An MS Society spokesperson said: "This in an interesting study which highlights the high prevalence of MS in Orkney, but it's still not clear why this might be the case.
"Further research is essential to build on our knowledge of the underlying causes of MS so that potential treatment and preventative strategies can be developed."
Related Internet Links
The BBC is not responsible for the content of external sites.