'Early victory' claimed in EU fish talks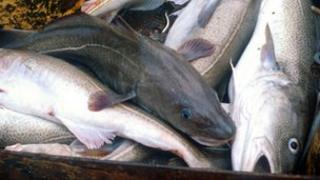 EU fisheries ministers have voted against an automatic cut in fishing quotas and reduction in the number of days fishermen can spend at sea.
They agreed to ignore legal advice which said that the Cod Recovery Plan had to be implemented, despite evidence of improving stocks.
The decision has been welcomed by the Scottish and UK governments.
Talks on the quotas for 2013 are due to continue over the coming days.
Under the EU cod recovery plan, which aims to get the fish back to the optimal level by 2015, automatic cuts in North Sea quotas and catch days are put in place each year if levels are not on track.
However, following talks in Brussels, member states agreed to remove the automatic cuts in favour of using the best available evidence to set quotas.
'Great news'
UK Fisheries Minister Richard Benyon said: "I have been arguing for a long time that reducing the amount of time that fishermen have to catch their cod quota is bad for sustainability as it forces fishermen to catch closer to shore, often on spawning grounds.
"That is why this change is a major step forward as it will allow cod quota and the amount of time fishermen can spend at sea to be based on solid scientific evidence rather than an out-of-date plan."
Scottish Fisheries Secretary Richard Lochhead is leading the Scottish delegation at the talks.
He said: "It is great news for Scotland's fishing industry that very early on we have succeeded in securing some key priorities.
"For the first time in many years our fishermen will be able to sleep a little easier this Christmas with the threat of a further cut in days at sea and also a 20% cut in cod quota fading."
Bertie Armstrong, chief executive of the Scottish Fishermen's Federation, said: "It's a good start. It means we can now get on with getting the maximum sustainable tonnage of fish to catch next year, without the spectre of something really difficult hanging over our heads."