Stonehaven flood victims consider suing Aberdeenshire Council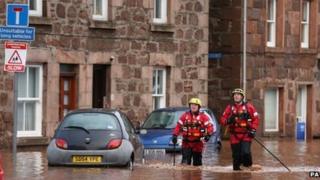 Stonehaven residents and businesses affected by last month's severe floods are considering suing Aberdeenshire Council, BBC Scotland has learned.
People had to leave their homes after the River Carron burst its banks, resulting in waist-high water levels.
Some are said to feel the council should have done more to avert the problem after problems in 2009.
The council said it has undertaken work in recent years to help protect the town from flooding.
A spokesperson said the authority would consider any communications received and deal with them at the appropriate time.