Appeal over injured German Shepherd Claus in Aberdeen car park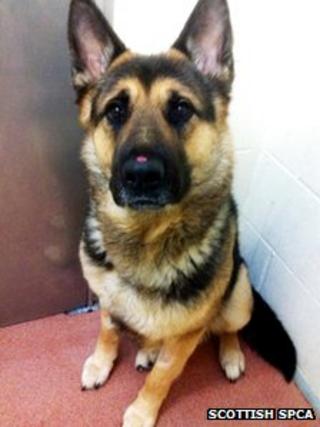 An appeal for information has been made after a German Shepherd dog was found in an Aberdeen car park with a fractured pelvis.
The male three-year-old dog - discovered unable to stand on West North Street - has been named Claus by staff at the Scottish SPCA.
The animal charity said Claus may have suffered his injuries after being struck by a car.
It is hoped his owner, or a new owner, can be found.
Debbie Innes, assistant manager of the Aberdeenshire Animal Rescue and Rehoming Centre, said: "Claus is currently on six to eight weeks of kennel rest, along with pain relief for his fractured pelvis.
"There is also a possibility he will need a further operation after this period.
"He's a real darling who has been so brave throughout his treatment and recovery."
She added: "It would be a real shame if Claus had to spend his full rest period in kennels and we're sure he'd much rather be back in the comfort of his own home if he has gone missing.
"We really hope someone will recognise this gorgeous boy and come forward. If not, we're sure we'll be able to find Claus a place to call his own with a loving new owner soon."