Rabbit found dumped at Ellon electrical substation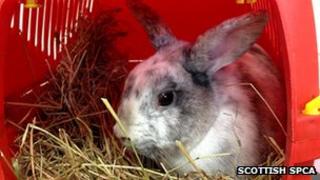 An appeal for information has been made after a young rabbit was found abandoned next to an electrical substation in Aberdeenshire.
A member of the public spotted the white and grey female bunny running along Ellon's Raeburn Place and Annand Road on Friday.
A red pet carrier which had food and hay inside was then discovered.
The Scottish SPCA said the rabbit - now named Misty - must have been "extremely frightened".
Debbie Innes, assistant manager of the Aberdeenshire Animal Rescue and Rehoming Centre, said: "Unfortunately it seems that poor Misty has been intentionally abandoned.
"The lady who rescued Misty said she was running around the streets but kept going back to the carrier to hide. She could easily have been hit by a car.
"Misty is in very good condition and she's a really friendly girl, indicating she has had an owner until recently."
'Love and care'
She explained: "Sadly some people do take on rabbits, often because their children want one, without fully thinking this decision through.
"Once the novelty has worn off and no-one wants to look after the new family pet anymore, they are all too often dumped on the streets like a piece of rubbish.
"People have to realise that, not only is this extremely cruel, it's a criminal offence.
"We'll soon find Misty a good home where she will receive the love and care she deserves."