Snow arrives in Grampian to cause serious problems on roads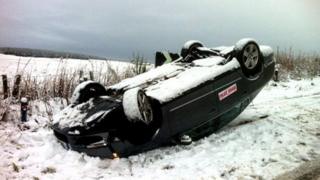 Heavy snow has hit much of the Grampian area, causing serious delays for motorists.
The snow did not start falling in Aberdeen until about 08:00 but was soon lying, and motorists in Aberdeenshire were stuck in long rush-hour tailbacks.
Cars were reported to be stuck on the Tyrebagger, with one motorist describing the scene as "carnage".
And a car landed on its roof on the B977 in the wintry conditions. No-one was believed to be seriously injured.
The snow also caused problems for several schools, due to transport issues.
Weather warnings are in place for snow and icy conditions across many parts of Scotland over the next few days.
Wintry showers began in the north east of the country on Saturday and about 3cm of snow fell in the east and in the Borders on Sunday.
Have you experienced problems due to Monday's snow, or captured any eye-catching images?
You can send your pictures to the BBC Scotland news website at newsonlinescotland@bbc.co.uk
Please ensure when filming or photographing an incident that you make your safety and the safety of others a priority.
If you submit an image, you do so in accordance with the BBC's Terms and Conditions.
To access more information, from your mobile, visit the BBC Weather and BBC Travel News sites.
The enhanced content on this page requires Javascript and Flash Player 9
Map Key
Land
Cloud
Lakes, Rivers & Sea
Fog
Light
Heavy
Frost
Light
Heavy
Pressure Fronts
Cold
Warm
Occluded
Rain
Light
Heavy
Extreme
Snow
Light
Heavy
Temperature tab only
Temperature (°C)
More details from BBC Weather