EU-Norway fishing talks under way in Ireland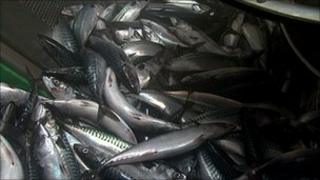 Talks to finalise fishing levels for shared stocks between the EU and Norway have begun in Clonakilty in County Cork, Ireland.
Bertie Armstrong, chief executive of the Scottish Fishermen's Federation (SFF), said: "It is imperative that the status quo is maintained on the North Sea cod quota."
Discussions broke down in December over the question of cod quotas.
The talks are expected to last for a week.
In December the European Union agreed a new EU Cod Plan, which allowed for increased catch levels for some white fish stocks in the North Sea.
Marine scientists have questioned whether stocks can continue to be fished at their current levels.
Prof Callum Roberts, from the Environment Department of the University of York said: "On cod, we are still below the level of biomass at which it should be fished. But green shoots of recovery are present."
The SFF have claimed spawning stock biomass of North Sea cod has doubled since 2008, but this is challenged by Prof Roberts.
He said: "There are 68,000 metric tonnes of cod in the North Sea today, and 40,000 tonnes in 2008. That's an increase of 70%.
"They are over-egging it, significantly."
Mackerel quotas
This is the fourth round of negotiations for a new agreement for the management of shared fish stocks in the waters between the European Union countries and Norway, but one potentially stumbling block will be mackerel quotas.
Bertie Armstrong said: "One of our main priorities at this week's EU-Norway fisheries negotiations is to ensure that there is a sensible allocation of mackerel and that there is no move to adjust the quota so as to pander to the grossly irresponsible over-fishing of mackerel by Iceland and the Faroes.
"It would be perverse if our fleet, which has adopted sustainable fishing practices within an international management plan, was to suffer because of the piratical actions of other nations," continued Armstrong.
"This year will be a crucial one for the Scottish fishing industry, given that it comes against the background of the reform of the Common Fisheries Policy."
The fishing industry was worth £501m to the Scottish economy in 2011, and pelagic species accounted for 37% of landings by Scottish vessels.
Oliver Drewes, spokesperson for European Commissioner for Maritime Affairs and Fisheries Maria Dmanaki, said: "In this framework, the total allowable catches and quotas for the shared stocks in the North Sea, Skagerrak and Kattegat are being discussed, as well as the agreement on the exchange of reciprocal fishing possibilities.
"We will have to await the outcome for further news."