More tests for Super Puma helicopters after gearbox failures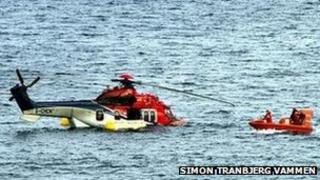 Further tests are to be carried out to pinpoint what caused gearbox failures on two North Sea Super Puma helicopters.
Super Puma EC 225s remain grounded following the ditchings last year.
The Super Puma's manufacturer Eurocopter said extensive testing had found what it called a "most probable" root cause of the failure.
Eurocopter said it was now launching another series of tests to get more sophisticated evaluations.
In the May incident, all 14 people on board a Super Puma were rescued when their helicopter came down about 30 miles off the coast of Aberdeen during a flight to an oil rig.
Then in the October ditching, all 19 people on board were rescued safely after the Super Puma put down in the sea off Shetland.