No cod cuts hailed a 'good deal' for Scotland's fishermen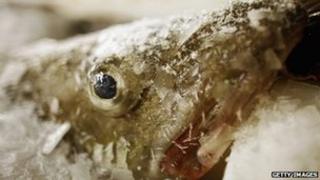 A deal that will result in no cut to this year's cod quota has been welcomed as "good news" for Scotland's fishermen.
It follows negotiations between the EU and Norway that concluded at 06:00.
Fisheries Minister Richard Lochhead said the deal built on the "successful outcome" of December's discussions.
"The industry has much to look forward to in 2013," he said. "While there will no doubt still be challenges ahead, for now they are able to plan ahead."
Total allowable catches of fish including haddock, whiting, plaice and herring have increased.
"This deal is good news for Scotland's fishermen, showing significant increases across a range of key stocks that are reaping the benefit of sensible management measures," said Mr Lochhead.
"Importantly, we have now set mackerel limits that follow the scientific recommendations but do not in any way seek to reward the unacceptable actions of Faroe and Iceland to the detriment of the Scottish fishing industry.
"The deeply flawed cod plan proposed a further cut in quota when the stock is actually recovering.
"The only result would have been a trail of discards across the North Sea. This outcome will help prevent that nonsensical situation arising."
A statement from the European Commission said: "The agreement involves increases in total allowable catches (TACs) for many of the important stocks compared to 2012, such as 15% for North Sea Haddock, 15% for North Sea Saithe, 11% for North Sea Whiting, 15% for North Sea Plaice, and 18% for North Sea Herring.
"Furthermore, it was possible to keep the TAC for North Sea cod at the same level as in 2012.
"In the absence of agreement with Iceland and the Faroe Islands, a catch limit for mackerel, which follows the scientific recommendations, was set. The EU quota for mackerel in 2013 amounts to 336.285 tonnes."
Scottish Secretary Michael Moore said: "The increases in catch allocations reflect the efforts made by Scottish and UK fishermen to improve the sustainability of our fisheries and will represent a significant boost to both the sector and the wider rural economy."
Bertie Armstrong, chief executive of the Scottish Fishermen's Federation, also welcomed the deal.
Mackerel wrangle
He said: "This is a good outcome based on the science, which reflects the status of our recovering stocks in the North Sea.
"Cod is recovering well and a cut in quota would only have led to unavoidable discarding.
"Our fishermen have been at the forefront of spearheading a range of innovative conservation measures, including technical alterations to trawls to dramatically reduce discards, and adhering to real-time area closures to protect spawning and juvenile fish."
Iceland and the Faroe Islands have been involved in a long-running mackerel dispute.
They have both been criticised for declaring huge catches of the valuable fish in recent years, leading to fears for its sustainability.