Further NHS Scottish waiting time 'loopholes' emerge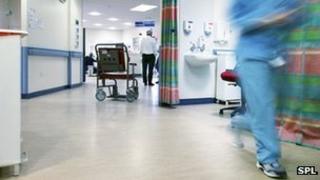 BBC Scotland had been contacted by patients from all over Scotland who say they have been caught out by loopholes in the Scottish government's waiting times policy.
They include patients waiting for cancer treatment, knee replacements, and those waiting for treatment for arthritis.
Last week the BBC revealed how breast cancer patients who had surgery were waiting up to 15 weeks for radiotherapy in Inverness, and that hundreds of people were waiting up to six months for a scan to detect osteoporosis at a clinic in Aberdeen.
Both groups of patients did not fall within the Scottish government's waiting time policy.
Questions have been raised about waiting times since it was revealed that NHS Lothian had been fiddling its waiting figures by referring patients for appointments in England at short notice.
The Scottish government claimed that audits of all Scottish health boards demonstrated that most of them were following the policy correctly and there were no "hidden waits".
Cancer surgery
However several of you got in touch to say that you too had waited a long time for radiotherapy after breast cancer surgery.
This time the health board concerned was NHS Grampian and involved waits of 11-13 weeks for treatment.
One woman told us the anxiety of waiting so long caused her to have "a bit of a breakdown".
NHS Grampian said the average wait for radiotherapy after surgery is six weeks. The Scottish government only guarantees a short wait for the "first" cancer treatment and radiotherapy after surgery is not included in treatment targets.
A man told BBC Scotland he was told he would have to wait six and a half months for a knee replacement in Aberdeen unless he was prepared to travel to Glasgow.
A consultant from NHS Grampian backed up his story by telling the BBC that patients "disappeared" from the waiting list if they refused to travel.
According to internal Scottish government guidance, a patient does not have to be offered an appointment within his or her own area.
A spokesperson for NHS Grampian denied that patients "disappear" from the waiting list. He said they were "managed according to clinical priority".
Rheumatoid arthritis
A patient from Forth Valley told us they were waiting a year for an appointment to diagnose rheumatoid arthritis.
NHS Forth Valley told the BBC this was due to "a national shortage of specialists in this field" and that patients were waiting a year for routine appointments.
It said it "regretted" the difficulties this was causing patients. Long waits in some departments do not appear in official statistics if other departments treat everyone quickly, as each health board only has to report an overall compliance rate of 90%. NHS Forth Valley only failed to meet this target between July and September.
One man who contacted the BBC said: "I am horrified that these people, both politicians and NHS managers are prepared to play these tricks with waiting times when peoples lives are quite literally on the line."
"Karen" said: "The extra waiting time caused me more worry at a time where all I could think of was surviving for my two young children."
The Scottish government said: "Over a million patients each year are covered by the Scottish government's waiting times standards and patients are being seen faster than ever before.
"Some treatments are not covered by Government targets and never have been - to suggest that these are 'loopholes' is both inaccurate and misleading and we have made this clear to the BBC.
"When and how these patients receive treatment is a decision for doctors, based on clinical guidelines and in the best interests of the patient.
"There are some cases where individuals are not seen as quickly as they should due to localised and temporary capacity issues - but the fact that these individual patients are making the news proves just how rare these cases are."