Knife robber jailed over Aberdeen shop attack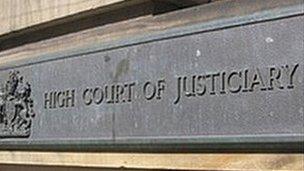 A robber who slashed an Aberdeen shop worker with a knife has been jailed for more than six-and-a-half years.
Graham Elrick, 26, admitted the attack on Kwok Fong in Key Stores, in Summerfield Terrace, in October last year.
He escaped with money, cigarettes and alcohol.
At the High Court in Edinburgh, judge Lord Uist told Elrick: "Your victim must have been terrified by what you did to him."
He said he was "appalled" by CCTV footage of the raid, and added: "It is quite intolerable a shop assistant, working to serve the public, should be treated in this way."
Advocate depute Douglas Fairley QC said that the victim, aged 28, had left his job as he was afraid to work there alone and at night.
The prosecutor said: "He describes having difficulty sleeping and states that he wakes up in the middle of the night in a state of panic thinking about the incident."
The court heard Mr Fong was behind the counter at the premises Elrick entered and shouted "robbery".
The masked raider jumped over the counter and produced a large kitchen knife.
Mr Fairley said: "Mr Fong struggled with the accused and managed to grab him a head lock.
"The accused then slashed at Mr Fong with the knife and cut him several times on his back and hand."
Elrick fled from the shop but was chased by Mr Fong, who was taken to Aberdeen Royal Infirmary and was found to have a wound to a finger which came close to severing the tendon.
Defence counsel Ronnie Renucci said Elrick had pled guilty partly to prevent the victim "going through any further ordeal at his hands".
He said Elrick had little memory of the offence.
Mr Renucci said that when the robber was shown video footage he was "shocked" and added he deeply regretted his actions.
Lord Uist told Elrick that it was clear from his record that he was "a career criminal" and added that his list of convictions was "wholly deplorable".
He told him: "If you continue with your life of crime you will end up spending the rest of your life in prison."
Elrick was jailed for six years and eight months.
Related Internet Links
The BBC is not responsible for the content of external sites.