Aberdeen embezzler Jack Downie gets £187,000 confiscated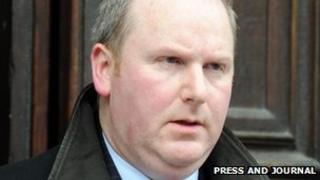 A man who embezzled £386,000 while he was an Aberdeen City Council official has been handed a £187,300 confiscation order.
Jack Downie, 46, of Inverurie, was jailed for two years last March.
Downie was responsible for processing lump-sum payments to retiring teachers while working at the council. He used the money for luxury goods such as a Range Rover and holidays.
The confiscation order was made at Aberdeen Sheriff Court.
Lindsey Miller, head of the Crown Office and Procurator Fiscal Service's serious and organised crime division, said: "Jack Downie embezzled hundreds of thousands of pounds from the public purse for over four years.
"This was a significant breach of trust where he betrayed the responsibility of his position and stole from the public he was supposed to be serving.
"We are satisfied that this £187,300 confiscation order represents the amount of money available to us at this time, on the basis that is the total value of his assets he can sell to pay the order.
"This money will be added to the £60m already gathered from Proceeds of Crime and will be re-invested by Scottish Ministers through the CashBack for Communities programme."
Downie admitted the crime, which happened between 2006 and 2010.