Lecht chair-lift probe under way as witnesses tell of ordeal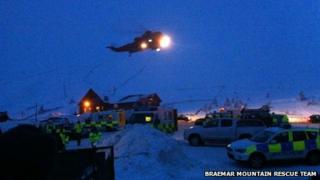 An investigation into a chair-lift accident at the Lecht Ski Centre that left six people - including five children - in hospital and 30 needing rescued is getting under way.
The drama unfolded at the centre, at Corgarff in Aberdeenshire, late on Tuesday afternoon.
The six injured suffered non life-threatening injuries.
It is believed the accident happened when the tow rope on the chair-lift came off.
NHS Grampian said on Wednesday that two children who were brought to Aberdeen Royal Infirmary had now been discharged.
Two other children and one adult were in a "satisfactory" condition.
The six people fell about 20ft (6m) to the ground and others were left stranded for more than an hour.
There were a large number of children on the ski slopes because it is still the half-term school holidays in many parts of Scotland.
A spokeswoman for the Lecht said: "We don't know the reason for the accident, however the Health and Safety Executive and the Lecht will be investigating the cause."
Tourist Theresa Bastiman-Davies was on the lift with her eight-year-old son when it happened.
'Something nasty'
She told BBC Scotland: "It was probably the last run of the day for us.
"It suddenly stopped and I could see something nasty had happened. It was quite a jolt. We did not know what was going on.
"It was very, very cold. But we were calm. It was not very nice. We just had to cuddle up and sit there and wait."
Her husband, Stephen, who sent photos to the BBC, explained: "The two of them were trapped on the lift for over and hour and a half awaiting rescue by the staff, and then they were winched to safety.
"I looked on from below, with our four-year-old. I was taking pictures of him so had the camera handy."
The Lecht Ski Centre is on the A939 between Cockbridge and Tomintoul, on the eastern side of the Cairngorms.
There are five main ski resorts in Scotland — Nevis Range, Glencoe, Glenshee, Cairngorms and The Lecht.