Petition calling for Donald Trump golf public inquiry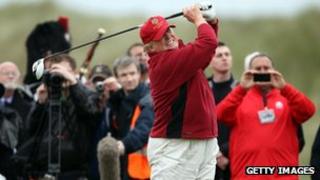 A petition has been launched calling for a public inquiry into Donald Trump's Aberdeenshire golf resort.
Local protestor David Milne has lodged the petition against the American tycoon's controversial development at Menie.
Mr Milne said: "Only a full public inquiry can now get to the bottom of this story."
The Trump Organisation recently submitted plans for an 18-hole course to the south of the existing course.
Mr Milne has expressed concerns about "planning guidelines and environmental regulations".
He said: "I would urge everyone who has supported us up to now to sign this petition and help us make sure that the Scottish Parliament's Petitions Committee acts on it."
A Trump International Golf Links spokesperson said "The project has already gone through years of scrutiny and debate during a lengthy planning process, including a public inquiry in the full media spotlight.
"Mr Milne needs to move on. He attempted this before and it failed because there is no basis for it.
"The championship course is now established and drawing thousands of golfers from around the world and creating business opportunities and much needed jobs."
'Unprecedented demand'
The second course would be named The Mary MacLeod Course, after Mr Trump's Scottish-born mother.
He said: "The unprecedented demand to play our championship course has accelerated our plans."
Mr Trump officially unveiled his Trump International Golf Links in July.
He has repeatedly clashed with local residents, environmentalists, wind farm manufacturers and the Scottish First Minister since buying the land on the Menie Estate eight years ago.
Plans for a hotel and houses on the estate have been put on hold until a decision is made on a proposed wind farm off the coast of the links.