Image of Donald Trump golf hotel at Menie revealed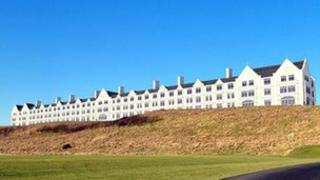 An image of the hotel planned for Donald Trump's golf resort in Aberdeenshire has been revealed.
The American businessman has said the 140-bedroom hotel at Menie will only proceed if plans for an offshore wind farm off Aberdeen do not proceed.
He said: "This will be among the finest hotels in Europe. The hotel will be a tremendous asset for the region."
The £230m wind farm project is a joint venture by Vattenfall, Technip and Aberdeen Renewable Energy Group (Areg).
Mr Trump explained: "If plans for the ugly industrial wind turbines proceed, we would obviously not build this hotel."
The Trump Organisation recently submitted plans for an 18-hole course to the south of the existing course.
The second course would be named The Mary MacLeod Course, after Mr Trump's Scottish-born mother.
A petition has been launched calling for a public inquiry into Mr Trump's golf resort.
Local protestor David Milne has lodged the petition against the American tycoon's controversial development.
Mr Trump has repeatedly clashed with local residents, environmentalists, wind farm manufacturers and the Scottish first minister since buying the land eight years ago.