Vos Sailor North Sea death: Helicopter crew honoured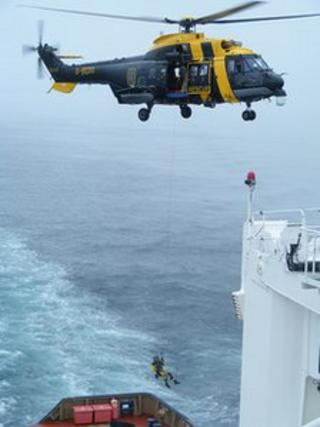 Two helicopter crewmen have been honoured for their role in a North Sea rescue after an oil industry supply vessel was hit by a wave during storms.
Vos Sailor crew member Joseph Laws, 50, from Hull, died when the vessel was damaged about 120 miles off Aberdeen on 15 December.
Other crew members had to be airlifted to safety from the stricken boat.
Bond winchman Andrew Cowx and winch operator Paul Walters have received an award.
The Billy Deacon Search and Rescue Memorial Trophy was established in memory of a Coastguard winchman who lost his life during the rescue of 10 crew members from the Green Lily off Shetland in November 1997.
Bond Offshore Helicopters managing director Luke Farajallah said: "Andrew and Paul displayed outstanding courage, composure and selflessness in the face of extremely challenging and hazardous conditions, and I can think of no more deserving winners of the trophy.
"Of course they are part of a broader team, and I would also like to commend Captain Graham Stein and co-pilot Nick Smalley for their part in this rescue."