Presbytery allow Gilcomston South split group to use kirk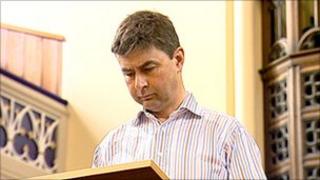 An Aberdeen minister and his congregation who quit the church of Scotland over the ordination of gay ministers are to be temporarily allowed back into their former church.
The Reverend Dominic Smart left his ministry at the Church of Scotland earlier this month.
Much of the congregation of Gilcomston South went with him.
On Thursday night the Aberdeen presbytery agreed to let them use the church on an interim basis.
Remaining members of the Gilcomston congregation will temporarily worship with the congregation of South Holburn Church.
A special committee of the presbytery said that while it considered the future of the Church of Scotland congregation, it would allow the new congregation of Gilcomston Church to make use of the church premises.
No conflict
The Rev George Cowie, committee convener, said: "'It is deeply sad when people choose to leave the Church of Scotland. We believe that the Church of Scotland is a broad church and that it can accommodate people who hold differing views.
"In this case, however, the situation has not involved conflict, scandal or litigation.
"All parties have shown respect for one another and it has been a good Christian witness for us to engage with one another in this manner."
Mr Smart and more than 300 members of his congregation took issue with the appointment of the openly-gay minister Scott Rennie.
Reverend Rennie was appointed to Queen's Cross church in Aberdeen in 2009.